There are fewer than 1,000 Gynecologic oncologists in the U.S.¹
Gynecologic oncologists manage some of the most complicated cases in surgery today. To assist in training the next generation and delivering the best possible outcomes for patients, we offer innovative surgical options supported by best-in-class professional education programs, patient resources, and clinical research.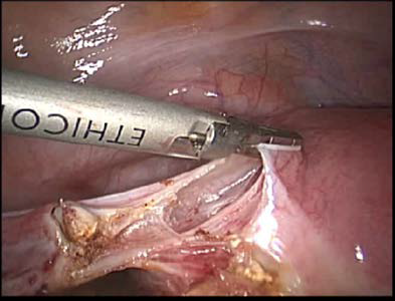 Ethicon supports complex Gynecologic Surgeries
Thad Denehy, MD, a gynecologic oncologist, discusses how the tools he uses in complex gynecologic surgeries have evolved over the years—and the positive impact these changes have had.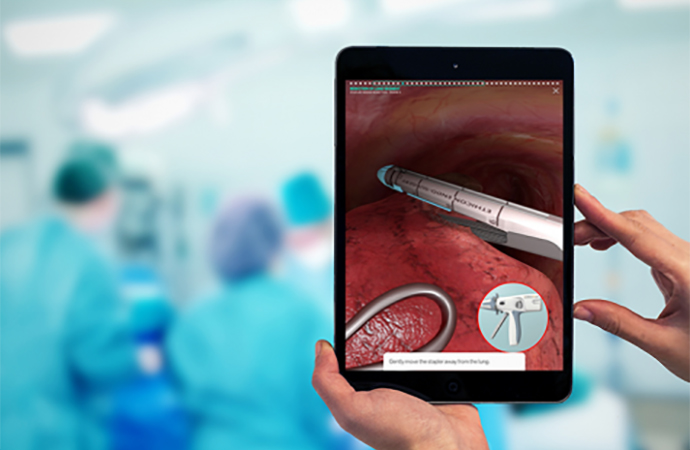 Professional education on the robot and more
The Johnson & Johnson Institute trains over 125,000 healthcare providers and residents in 25 cities around the world each year. Programs use the latest instructional methods and technologies including Touch Surgery and C-SATs.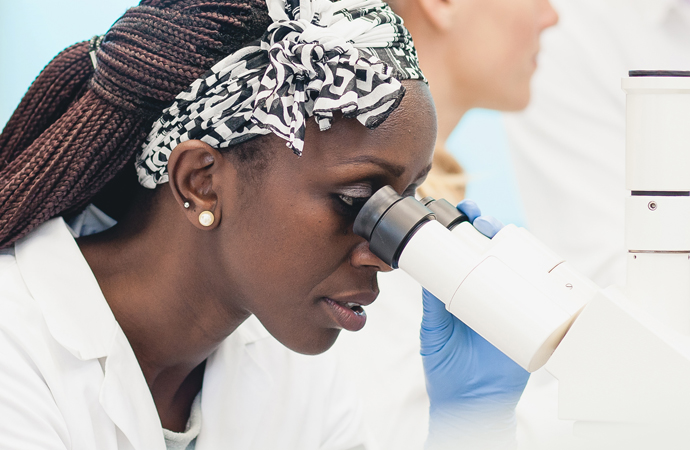 Clinical research and society support
Ethicon and Johnson & Johnson invest in clinical research and society partnerships in order to uncover evolving needs and develop products based on these findings.
AAGL: Gold sponsor and society supporter for nearly 50 years
SGO: Industry Corporate Council Member with shared mission to help eradicate women's cancer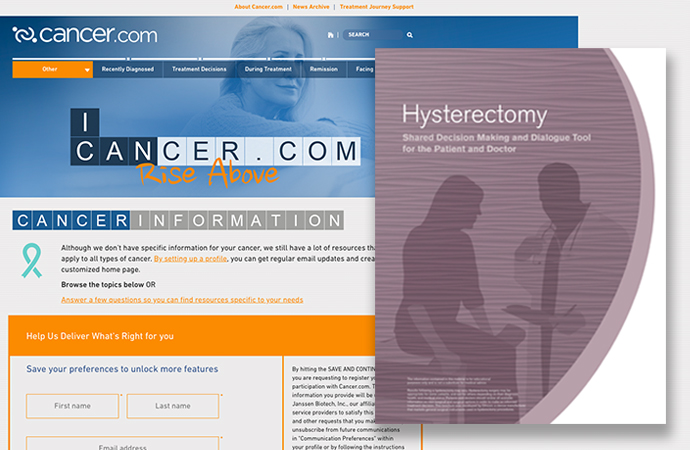 Patient education and resources
We support, educate, and inform patients throughout their journey and across disease states through branded and unbranded patient education materials and online resources.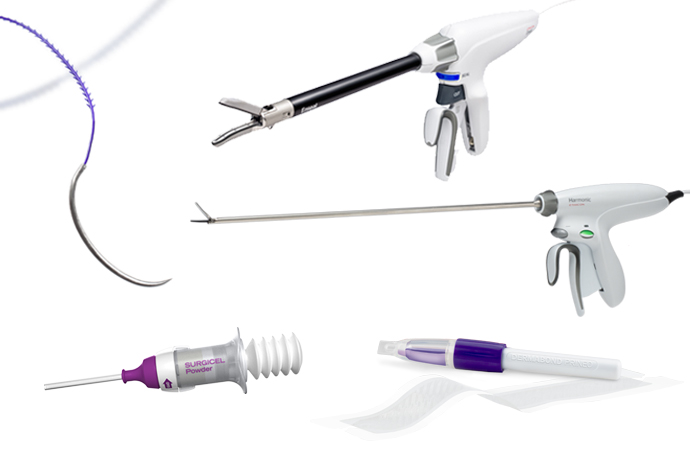 Innovative medical devices and treatments
Groundbreaking medical devices across both complex benign and oncology interventions in a range of therapeutic areas.
Site References
 1. The State of Cancer Care in America: 2016. ASCO. https://www.asco.org/research-progress/reports-studies/cancer-care-america-2016#/conclusions-and-recommendations. Accessed July 2, 2018. 
SURGICEL® Powder Absorbable Hemostat Essential Product Information
INDICATIONS
SURGICEL® Powder (oxidized regenerated cellulose) is used adjunctively in surgical procedures to assist in the control of capillary, venous, and small arterial hemorrhage when ligation or other conventional methods of control are impractical or ineffective.
CONTRAINDICATIONS
• Do not inject or place SURGICEL® Powder into an open blood vessel.
• SURGICEL® Powder should not be used to control hemorrhage from large arteries.
• When SURGICEL® Powder is used to help achieve hemostasis in, around, or in proximity to foramina in bone, areas of bony confine, the spinal cord, or the optic nerve and chiasm, it must always be removed after hemostasis is achieved since it will swell and could exert unwanted pressure.
• SURGICEL® Powder should not be used for implantation in bone defects, such as fractures, since there is a possibility of interference with callus formation and a theoretical chance of cyst formation.
WARNINGS
• Closing with SURGICEL® Powder in a contaminated wound without drainage may lead to complications and should be avoided.
• SURGICEL® Powder should not be impregnated with anti-infective agents or with other materials such as buffering or hemostatic substances. 
• SURGICEL® Powder is dry and there may be difficulties in precise delivery under certain circumstances. Unintentional device placement may result in powder scattering and device migration that may increase the risk of adhesion formation. 
• Although SURGICEL® Powder is bactericidal against a wide range of pathogenic microorganisms, it is not intended as a substitute for systemically administered therapeutic or prophylactic antimicrobial agents to control or to prevent postoperative infections.
• Do not attempt to trim the applicator tip.
PRECAUTIONS
SURGICEL® Powder should not be used in conjunction with autologous blood salvage circuits, because its fragments may pass through the transfusion filters of blood-scavenging systems.
 
Use only as much SURGICEL® Powder (oxidized regenerated cellulose) as is necessary and apply only where needed for hemostasis. Remove any excess before surgical closure in order to facilitate absorption and to minimize the possibility of foreign body reaction.
 
In urological procedures, minimal amounts of SURGICEL® Powder should be used and care must be exercised to prevent plugging of the urethra, ureter, or a catheter by dislodged portions of the product.
 
Since absorption of SURGICEL® Powder could be prevented in chemically cauterized areas, its use should not be preceded by application of silver nitrate or any other escharotic chemicals.
 
If SURGICEL® Powder is used temporarily to line the cavity of open wounds, it should be removed by irrigation with sterile water or saline solution after bleeding has stopped.
 
Precautions should be taken in otorhinolaryngologic surgery to ensure that none of the material is aspirated by the patient (e.g., controlling hemorrhage after tonsillectomy and controlling epistaxis).
This applicator tip is not intended for laparoscopic or other endoscopic use.
ADVERSE EVENTS 
 
Paralysis and nerve damage have been reported when other SURGICEL® products were used around, in, or in proximity to foramina in bone, areas of bony confine, the spinal cord, and/or the optic nerve and chiasm. 
Blindness has been reported in connection with surgical repair of a lacerated left frontal lobe when other SURGICEL® products were placed in the anterior cranial fossa (see WARNINGS and PRECAUTIONS).
 
Foreign body reactions have been reported with other products from the SURGICEL® Family of Absorbable Hemostats.
 
Burning has been reported when other SURGICEL® products were applied after nasal polyp removal. Headache, burning, stinging, and sneezing in epistaxis and other rhinological procedures, and stinging when SURGICEL® product was applied on surface wounds (varicose ulcerations, dermabrasions, and donor sites) have also been reported.
 
For more information and technical questions, call 1-800-795-0012.