SURGICEL SNoW™ Absorbable Hemostat
SURGICEL SNoW™ Hemostat helps you focus on the procedure, not the bleed. With enhanced speed, handling and performance, one layer is more effective than four layers of SURGICEL® Original Absorbable Hemostat.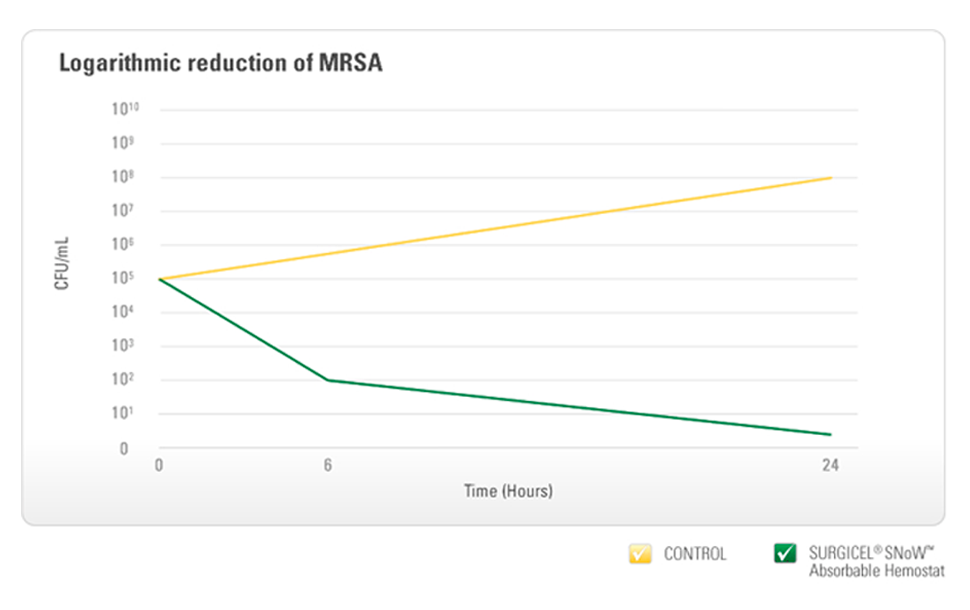 Proven bactericidal advantage
SURGICEL® is bactericidal in vitro against a wide range of organisms
The SURGICEL® Family of Absorbable Hemostats is the first and only absorbable hemostat proven bactericidal against a broad range of gram-positive and gram-negative organisms including various antibiotic resistant bacteria (MRSA, VRE, PRSP and MRSE).1*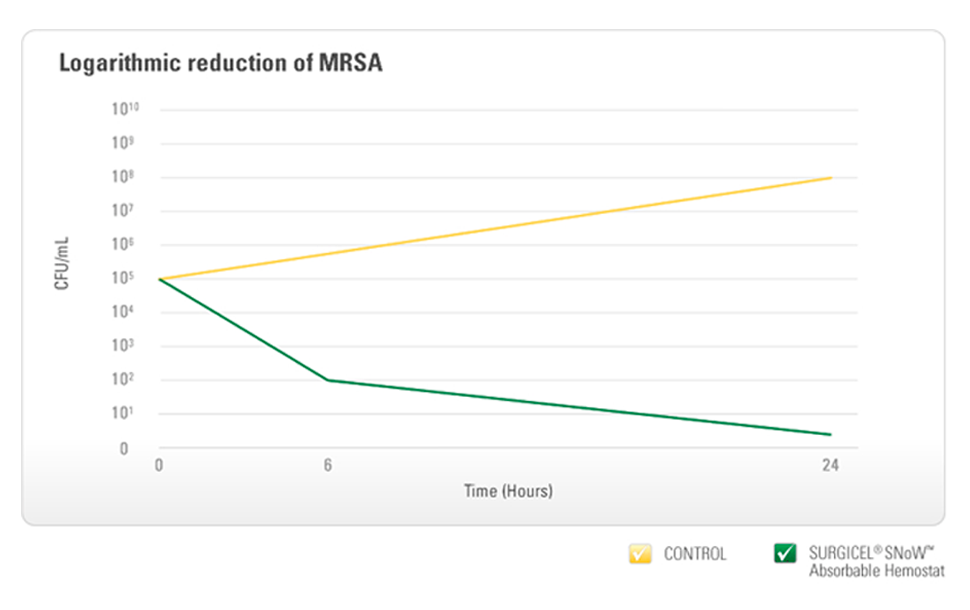 ---
Faster time to hemostasis†
Expedite hemostasis with Oxidized Regenerated Cellulose (ORC)
SURGICEL SNoW™ Hemostat initiates hemostasis by serving as a scaffold for platelet adhesion and aggregation that leads to quick clot formation.3 SURGICEL SNoW™ Hemostat provides superior hemostasis compared to SURGICEL® Original (43% faster time to hemostasis [TTH]) with reproducible performance among specialties and procedures.
---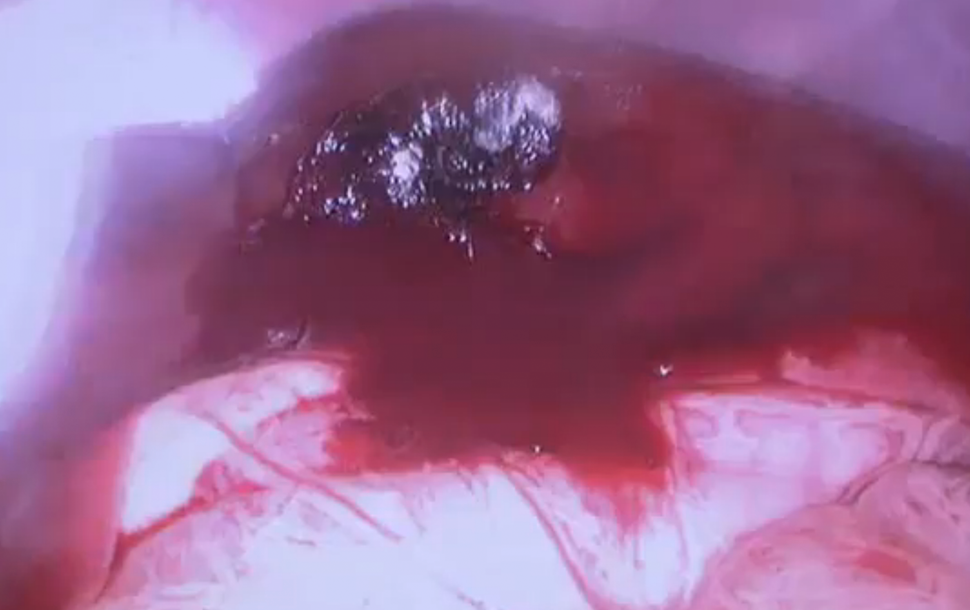 Superior conformability and handling†
Non-woven structure increases surface contact to bleeding site2†
With enhanced conformability and superior handling vs. SURGICEL® Original Absorbable Hemostat, SURGICEL SNoW™ Hemostat is easy to deploy and manipulate in laparoscopic surgery. Its non-woven structure increases surface contact to bleeding site.2†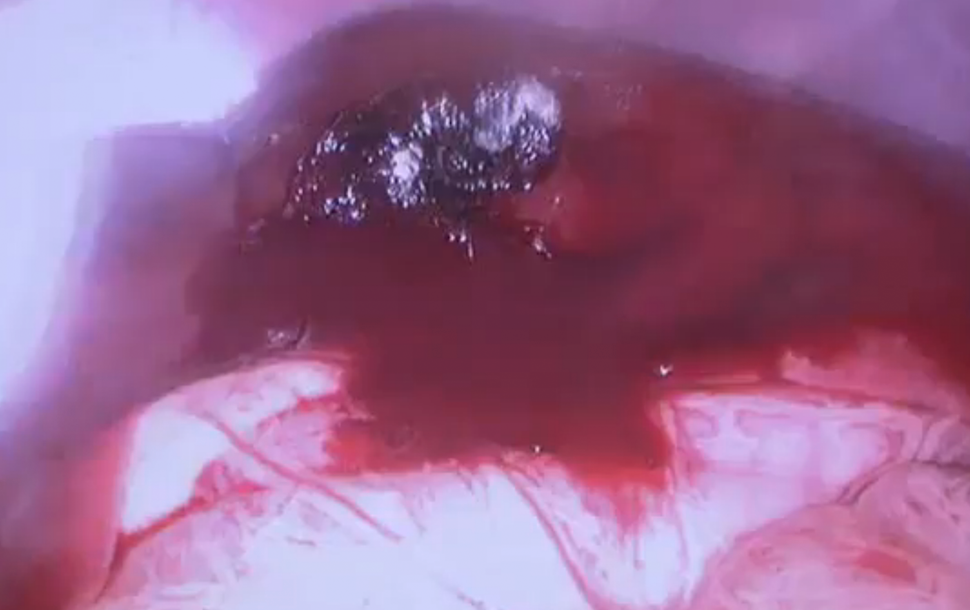 ---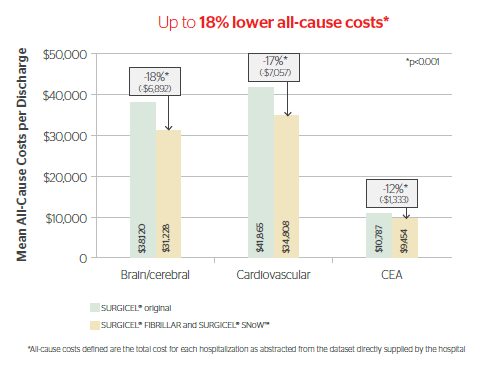 Increased cost savings‡
SURGICEL SNoW™ Hemostat & SURGICEL FIBRILLAR™ Hemostat vs SURGICEL Original Hemostat
Offering enhancements vs. SURGICEL Original in hemostatic performance, conformability, and tissue adherence at the bleeding site, is correlated with lower product utilization and better patient outcomes
up to 25% less product usage
transfusion cost lowered by 38% to 52%
hospital LOS reduced by up to 15%; equates to $500 to $2000 in savings
stay in intensive care unit (ICU) shortened by up to 20%; equates to $200 to $500 in savings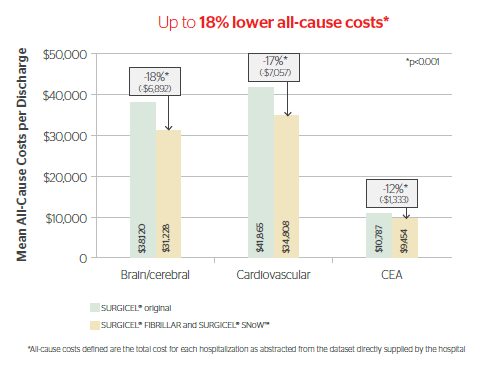 ---
Site references
* Methicillin-resistant Staphylococcus aureus (MRSA), vancomycin-resistant Enterococcus (VRE), penicillin-resistant Streptococcus pneumoniae (PRSP), methicillin-resistant Staphylococcus epidermidis (MRSE)
† Compared to SURGICEL® Original Absorbable Hemostat
1. Data on File, Ethicon, Inc. In Vitro Study
2. Helms JM. Ethicon Biosurgery Snow
3. Surgicel Absorbable Hemostat Full Prescribing Information, Helms JM. Ethicon Biosurgery Snow Marketing Claims Report. July 12, 2010
SURGICEL®  Essential Product Information
INDICATIONS
SURGICEL® Absorbable Hemostat (oxidized regenerated cellulose) is used adjunctively in surgical procedures to assist in the control of capillary, venous, and small arterial hemorrhage when ligation or other conventional methods of control are impractical or ineffective. SURGICEL® ORIGINAL, SURGICEL® FIBRILLAR™ and SURGICEL® NU-KNIT® Hemostats can be cut to size for use in endoscopic procedures.
 
PRECAUTIONS
Use only as much SURGICEL® Absorbable Hemostat as is necessary for hemostasis, holding it firmly in place until bleeding stops. Remove any excess before surgical closure in order to facilitate absorption and minimize the possibility of foreign body reaction.
In urological procedures, minimal amounts of SURGICEL® Absorbable Hemostat should be used and care must be exercised to prevent plugging of the urethra, ureter, or a catheter by dislodged portions of the product. 
Since absorption of SURGICEL® Absorbable Hemostat could be prevented in chemically cauterized areas, its use should not be preceded by application of silver nitrate or any other escharotic chemicals.
If SURGICEL® Absorbable Hemostat is used temporarily to line the cavity of large open wounds, it should be placed so as not to overlap the skin edges. It should also be removed from open wounds by forceps or by irrigation with sterile water or saline solution after bleeding has stopped.
Precautions should be taken in otorhinolaryngologic surgery to assure that none of the material is aspirated by the patient.  (Examples: controlling hemorrhage after tonsillectomy and controlling epistaxis.)
Care should be taken not to apply SURGICEL® Absorbable Hemostat too tightly when it is used as a wrap during vascular surgery (see Adverse Reactions).
 
ADVERSE EVENTS 
"Encapsulation" of fluid and foreign body reactions have been reported. 
 
There have been reports of stenotic effect when SURGICEL® Absorbable Hemostat has been applied as a wrap during vascular surgery. 
 
Paralysis and nerve damage have been reported when SURGICEL® Absorbable Hemostat was used around, in, or in proximity to foramina in bone, areas of bony confine, the spinal cord, and/or the optic nerve and chiasm. 
 
Blindness has been reported in connection with surgical repair of a lacerated left frontal lobe when SURGICEL® Absorbable Hemostat was placed in the anterior cranial fossa. 
 
Possible prolongation of drainage in cholecystectomies and difficulty passing urine per urethra after prostatectomy have been reported. 
 
For more information, please consult your doctor or for product quality and technical questions, call 1-800-795-0012.