DERMABOND® Mini Topical Skin Adhesive
DERMABOND Mini is a topical skin adhesive that provides strength to maintain barrier and wound closure integrity.1,2
A microbial barrier with 99% effectiveness for 72 hours in vitro.¥3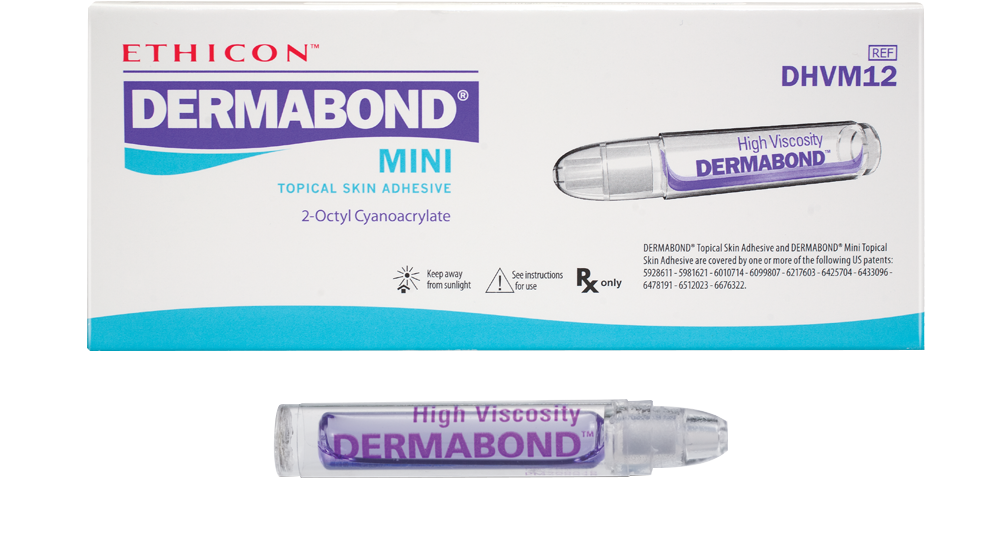 DERMABOND® Mini Topical Skin Adhesive Clinical Evidence Brief
Download PDF
DERMABOND ADVANCED® Topical Skin Adhesive Proof vs. Perception
Download PDF
Site references
¥ DERMABOND ADVANCED® Topical Skin Adhesive has been shown to seal out gram-positive, gram-negative, and drug-resistant (MRSA, MRSE) bacteria that may lead to infection.
1. Quinn J, Wells G, Sutcliffe T, et al. A randomized trial comparing octylcyanoacrylate tissue adhesive and sutures in the management of lacerations. JAMA. 1997;277(19):1527-1530.   
2. Singer AJ, Perry LC, Allen RL. In vivo study of wound-bursting strength and compliance of topical skin adhesives. Acad Emerg Med. 2008;15(12):1290-1294. 
3. Bhende S, Rothenburger S, Spangler DJ, Dito M. In vitro assessment of microbial barrier properties of DERMABOND® Topical Skin Adhesive. Surg Infect (Larchmt). 2002;3:251-257.